2018 Hole in Golf Classic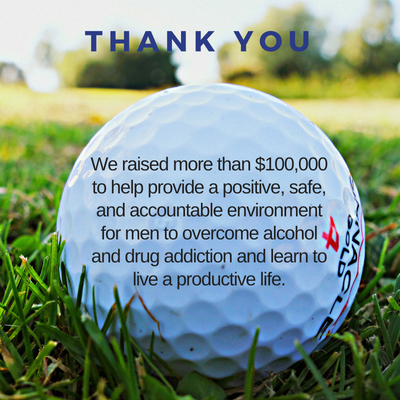 Thank you to everyone who participated in the 2018 Golf Classic, including our 100 golfers and dozens of volunteers. We raised more than $100,000 to help provide a positive, safe, and accountable environment for men to overcome alcohol and drug addiction and learn to live a productive life. A special thank you to our wonderful sponsors without whom none of this would be possible.
Congratulations to Raffle Winner Frank McHugh! 
And congratulations to our Golf Classic winners:
First Place: Ron Durham's Team
Second Place: Russtech's Team
Third Place: 502 Real Estate Team
Thank You Title Sponsors
Harrod Concrete & Stone
Swope Foundation
Bumper to Bumper
Cemex
Doug & Carrie Hall
Filcon Construction
LeHigh Cement Company
Louisville Paving & Construction
Advance Ready Mix
Cralle Foundation
Lenihan Southeby's
Nugent Sand
Quality Stone & Ready Mix
Stan W. Browning Melanoma Cancer Foundation
Paul A Clements II
Don Blackburn
Dowell Ryan
Holy Trinity Church
Julia Schroeder
Physicians Center for Beauty
Richard Lechleiter
Sierra Interactive
Signature Green Properties, LLC./ Jordan River Land Co. LLC
Gaunce Management
Robert Gatewood
Carl Thomas