RECOVERY AND TRANSITIONAL HOUSING
Beacon House employs two live-in resident managers, one senior resident manager, a life skills coach, a case manager with a master's degree in social work, in addition to our administrative staff.
We are the next step on the recovery continuum of care after men have completed inpatient treatment or an equivalent while incarcerated. Most of our clients come from The Brook Hospital, Landmark, Praxis, Seven Counties, Recovery Works, Peace Hospital, Wooded Glen, Drug Court, and LMDC.
We provide recovery housing with on-site services to support Substance Use Disorder (SUD) treatment, case management, and life skills development.
We provide referrals to intensive outpatient treatment (IOP), individual and family counseling, psychiatric evaluations and general healthcare provider with specialization in addictions, and Life Skills Education and Vivitrol. Our on-site programming consists of peer support, weekly case management meeting, daily 12-step meetings, an in-house mentor program, community meetings and organized volunteerism in the community.
The Beacon House differs from most recovery housing in the region by providing a high level of support, structure, and accountability, while still allowing residents to maintain employment and develop and maintain connections in the larger community.  Additionally, we blend the social model with third party clinical treatment partners to give residents access to a variety of recovery support services. Recovery housing falls on a spectrum of structure, accountability and recovery services. Some recovery houses offer shelter and a sober living environment only, while others have property, visitation and employment restrictions and treatment requirements. Each recovery residence has a different level of support, and learning about their culture and services will help you choose the right one.
We bridge the gap between acute treatment or incarceration and returning home by providing housing, peer support, and referrals to clinical continuing care to help men transition to independent living in long-term recovery.
LEVELS OF CARE: CONTINUUM OF CARE FOR SUBSTANCE USE DISORDER
Recovery is a lifelong journey and initiating treatment is just the beginning. Beacon House provides housing and support services to help bridge the gap between treatment and independent living in long-term recovery.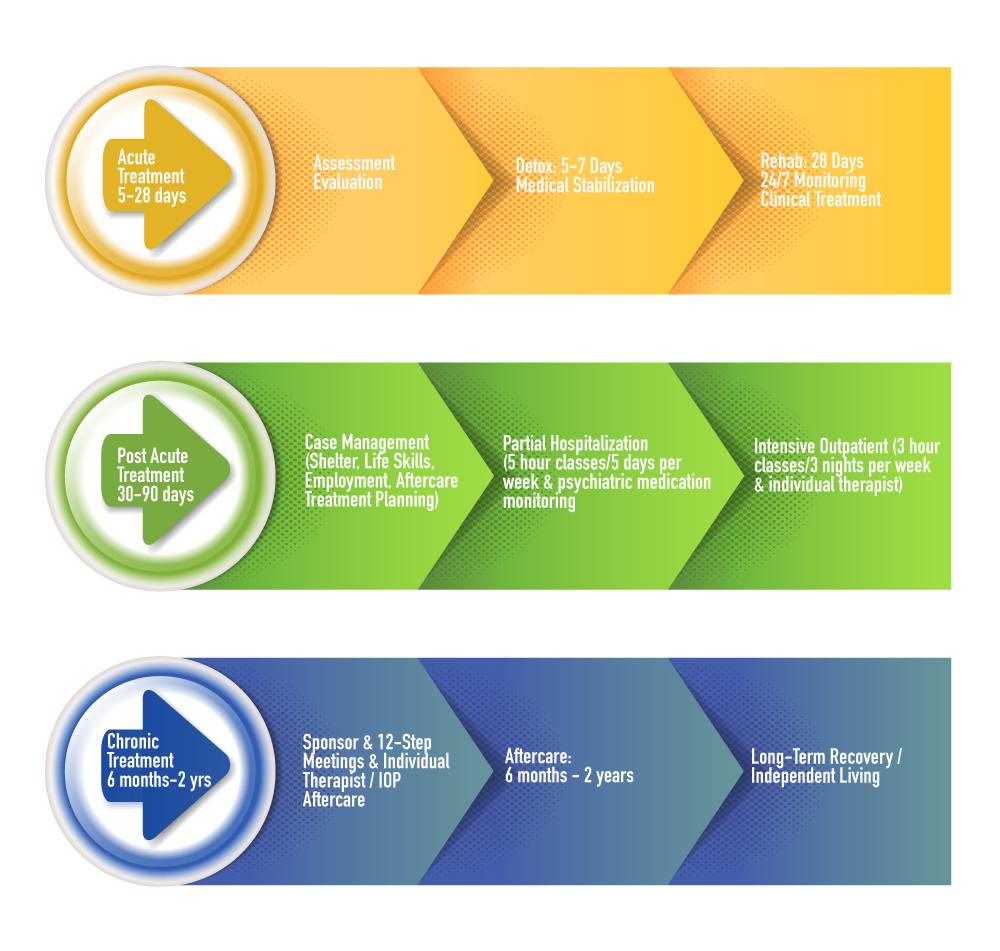 ADDICTION TREATMENT CONTINUUM OF CARE 
Addiction and Substance Use Disorder is a chronic neurologic disorder, as defined by the United States Surgeon General. As a chronic condition, individuals suffering from substance dependencies have greater success and fewer relapses when they participate in long-term continuing care. The first year after receiving initial inpatient treatment is a critical time and often requires continued recovery management, social support and monitoring by addiction professionals.
Research has shown that a single short-term treatment intervention is not adequate for most people with an addiction. Addiction is also a disease that can adversely affect one's health, housing, employment, and interpersonal relationships. A comprehensive recovery management plan that addresses the neurological and lifestyle components is considered best practice in addiction treatment.
With that in mind, we have outlined the addiction "continuum of care" to show the stages of treatment that our clientele follow in the first year of sobriety, from acute to sober, independent living.
STAGES
ASSESSMENT: Getting an assessment to determine if you or your loved needs substance use treatment is the first step. Clinical professionals in behavioral health facilities can perform an assessment to determine the level of care and recommend the next steps.
DETOX: The first step in treatment for many is in an acute, inpatient hospital setting. Depending on the substance and the severity of the disorder you or your loved one may require medical stabilization and relief from withdrawal symptoms.  These facilities provide 24-hour nursing care, a psychiatric evaluation, detox medications, individual and group counseling, and a discharge plan with clinical and medical follow-up appointments. The average length of stay is 5-7 days.
CLINICALLY MANAGED RESIDENTIAL TREATMENT: These clients are considered medically stable to "stepdown" a level of care from detox, but still require a structured 24-hour clinical care in a safe, enclosed setting. Residential treatment facilities relapse prevention, individual and group therapy, 12-step education and family services. It is in these programs that residents learn basic tools and strategies to help them remain sober once they are discharged. A high-quality residential program will offer case management to address housing, legal, employment and medical issues, as well as discharge planning to ensure their client has a strong post-treatment "continuing care" program upon leaving the residential setting. The average length stay is 30 days
SOBER TRANSITIONAL LIVING: Sober living residences vary greatly in the amount support, structure and services offered. A Transitional Living Facility, like Beacon House, provides a structured recovery environment, that includes 24-hour staffing and monitoring, case management, requires intensive outpatient and aftercare programming, support groups and peer support.  The average treatment duration is 6-18 months.
LEVELS OF CARE
The Levels of Care described below can be provided within a Sober Transitional Living Facility, or as part of an individual's long-term recovery plan if they return home directly from inpatient treatment. Many people with substance use disorder find these requirements are more manageable in a Sober Transitional Living setting.   
INTENSIVE OUTPATIENT PROGRAMMING (IOP): Intensive Out