B

eacon House was founded in 1997 to provide men suffering from alcohol and drug addiction with a safe, structured and accountable living environment.  We are the next step after treatment on the addiction treatment continuum of care for individuals seeking long-term recovery management. Our goal is to return men to a sober, independent and productive life.

 

We are the only transitional living facility in the region that provides residents in their first year of sobriety access to intensive clinical treatment, on-site life skills education and case management, and peer support. Beacon House's sober housing and high-quality recovery program have played a critical role in the success of thousands of people in their path to recovery.
"I love this place and what it has brought to my life."- 12/12/17
"I was lucky enough to come from rehab for a tour…I knew returning home would be less than beneficial to my sobriety." – 11/29/17
"I have gained some of the greatest friendships that I know are going to last. I have also gained the longest period of sobriety in my life." – 11/29/17
"I have done more with my life and state of emotions in the past 9 months than I have in the past 15 years. I have made some of the best friends I'll ever have, made huge strides in my career choices and I have no urge to use drugs or drink."
"I have gained the foundation and knowledge needed to stay sober. I have gained friends and the ability to stand on my own two feet."
2018 Hole in Golf Classic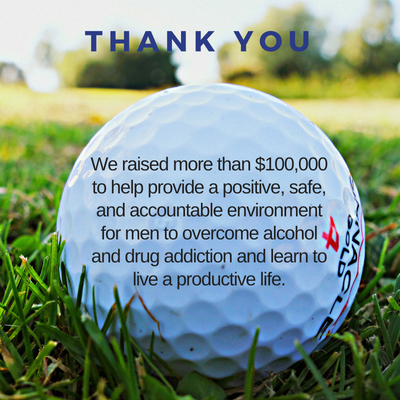 Thank you to everyone who participated in the 2018 Golf Classic, including our 100 golfers and dozens of volunteers. We raised more than $100,000 to help provide a positive, safe, and accountable environment for men to overcome alcohol and drug addiction and learn to live a productive life. A special thank you to our wonderful sponsors without whom none of this would be possible.
Congratulations to Raffle Winner Frank McHugh! 
And congratulations to our Golf Classic winners:
First Place: Ron Durham's Team
Second Place: Russtech's Team
Third Place: 502 Real Estate Team
Thank You Title Sponsors
Harrod Concrete & Stone
Swope Foundation
Bumper to Bumper
Cemex
Doug & Carrie Hall
Filcon Construction
LeHigh Cement Company
Louisville Paving & Construction
Advance Ready Mix
Cralle Foundation
Lenihan Southeby's
Nugent Sand
Quality Stone & Ready Mix
Stan W. Browning Melanoma Cancer Foundation
Paul A Clements II
Don Blackburn
Dowell Ryan
Holy Trinity Church
Julia Schroeder
Physicians Center for Beauty
Richard Lechleiter
Sierra Interactive
Signature Green Properties, LLC./ Jordan River Land Co. LLC
Gaunce Management
Robert Gatewood
Carl Thomas